Roller blinds are a simple yet effective means of dressing your windows to provide privacy and/or room darkening should it be required.
There are multiple ways a roller blind can be styled and operated.
Our roller blinds give a smooth finish and a fresh look to any room. Made-to-measure for the perfect fit, our blinds provides a subtle finishing touch to your interior, with a wide choice of beautiful fabric designs and colourways available.

For added sophistication, choose a cassette and bottom bar in matching or contrasting fabric to create a polished look, while our motorised lift option gives you effortless automation, enabling you to lift and lower your blinds at the touch of a button.
We have a large range of fabric books to choose from for your roller blinds, including the current Louvolite and Eclipse books! 
See below the blind options we have available.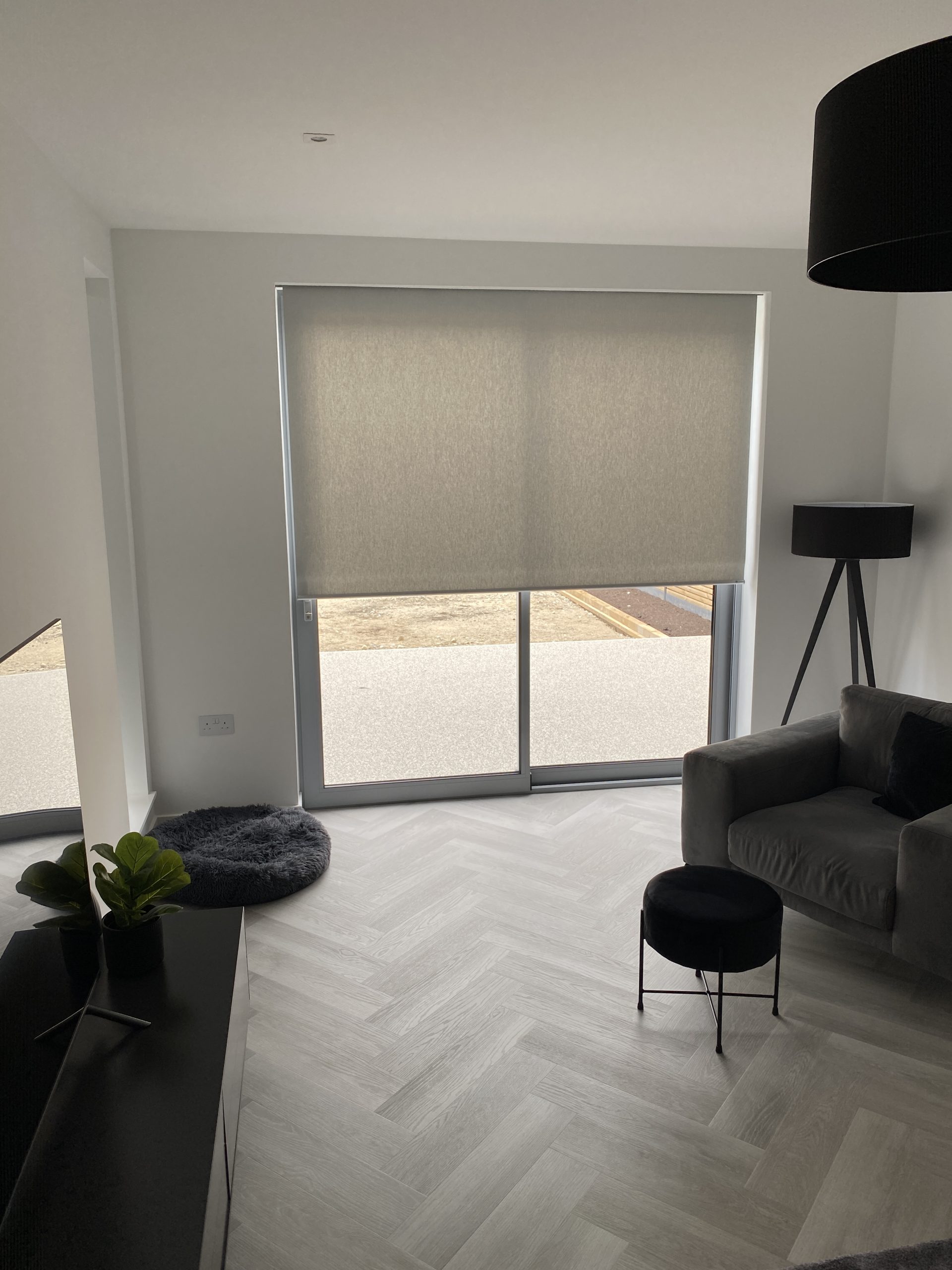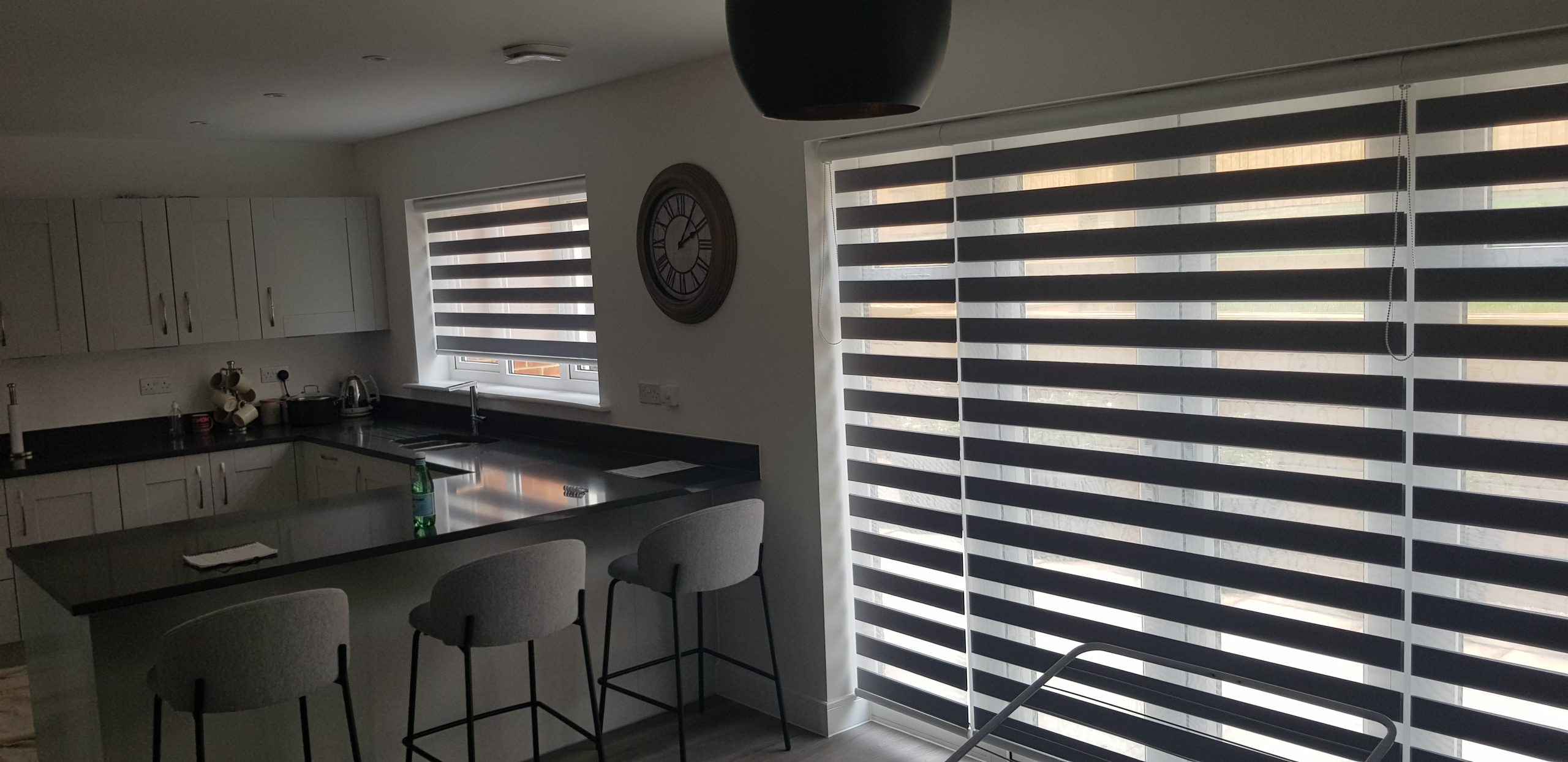 Double Roller or 'Duo-Rol'
The Duorol is a 'double roller blind'. Its effect comes from shifting fabric stripes up and down past each other. When the two transparent bars line up, it allows light in and when the bloc fabric lines up, it blocks out light.
Offering adjustable light-control and privacy levels through sheer and opaque vanes, these made-to-measure blinds can transform the look and feel of your home.
These blinds are available with cord control and motorised.
Cassette Headbox & Frames
With roller blinds you have the option of the barrel to be concealed behind a fascia or a headbox to give a smooth finish. You can either opt for a plain colour aluminium (usually white or black) to match in with the recessed surrounds or you can go for a fabric covered headbox. This can look great if the fabric you have selected is a bright pattern like pictured to the right.
If you were to go for the aluminium finish, there is also the option of having a full cassette frame which can minimise any light bleed around the edges of the blind. This is best suited for windows in bedrooms and home theatre systems.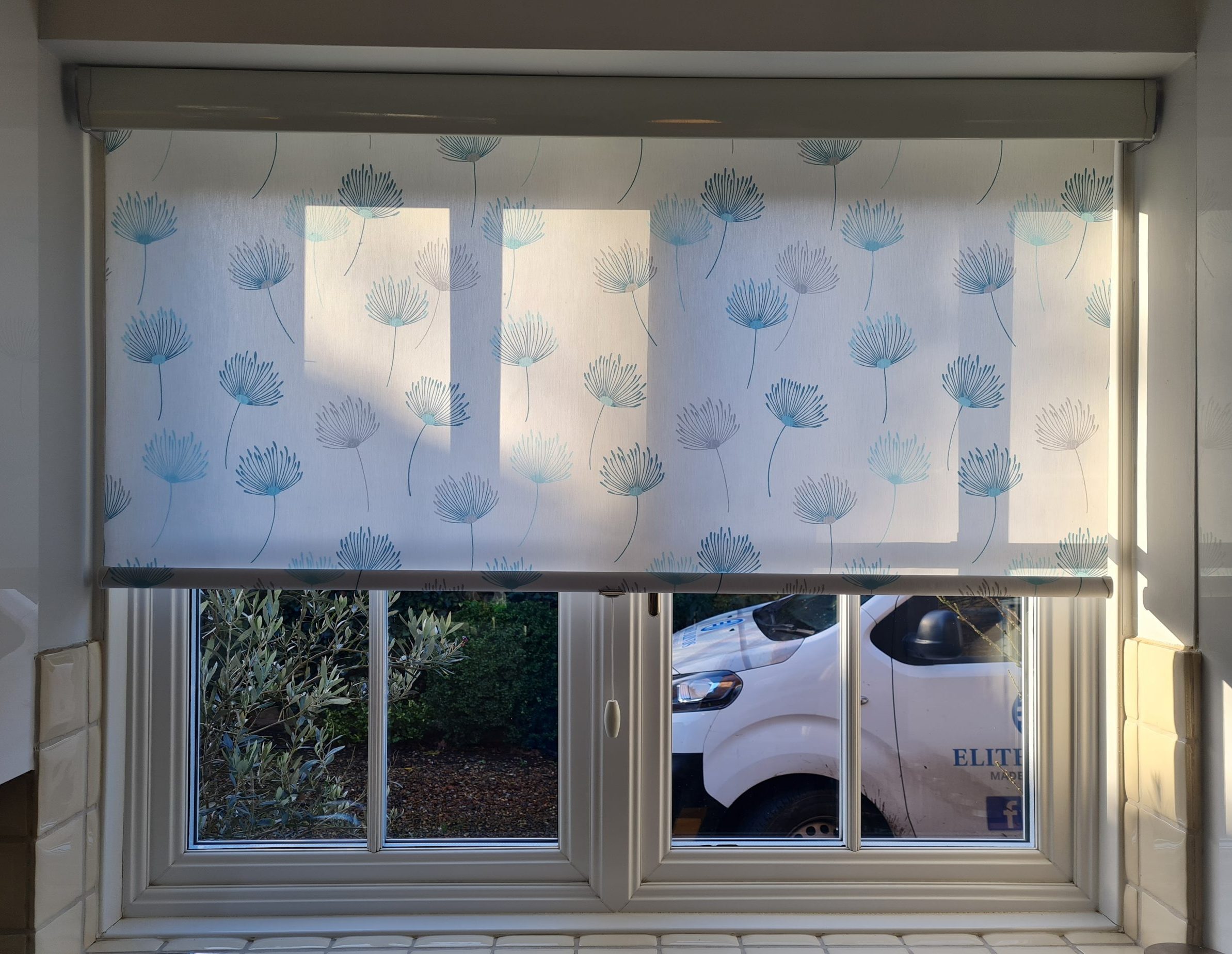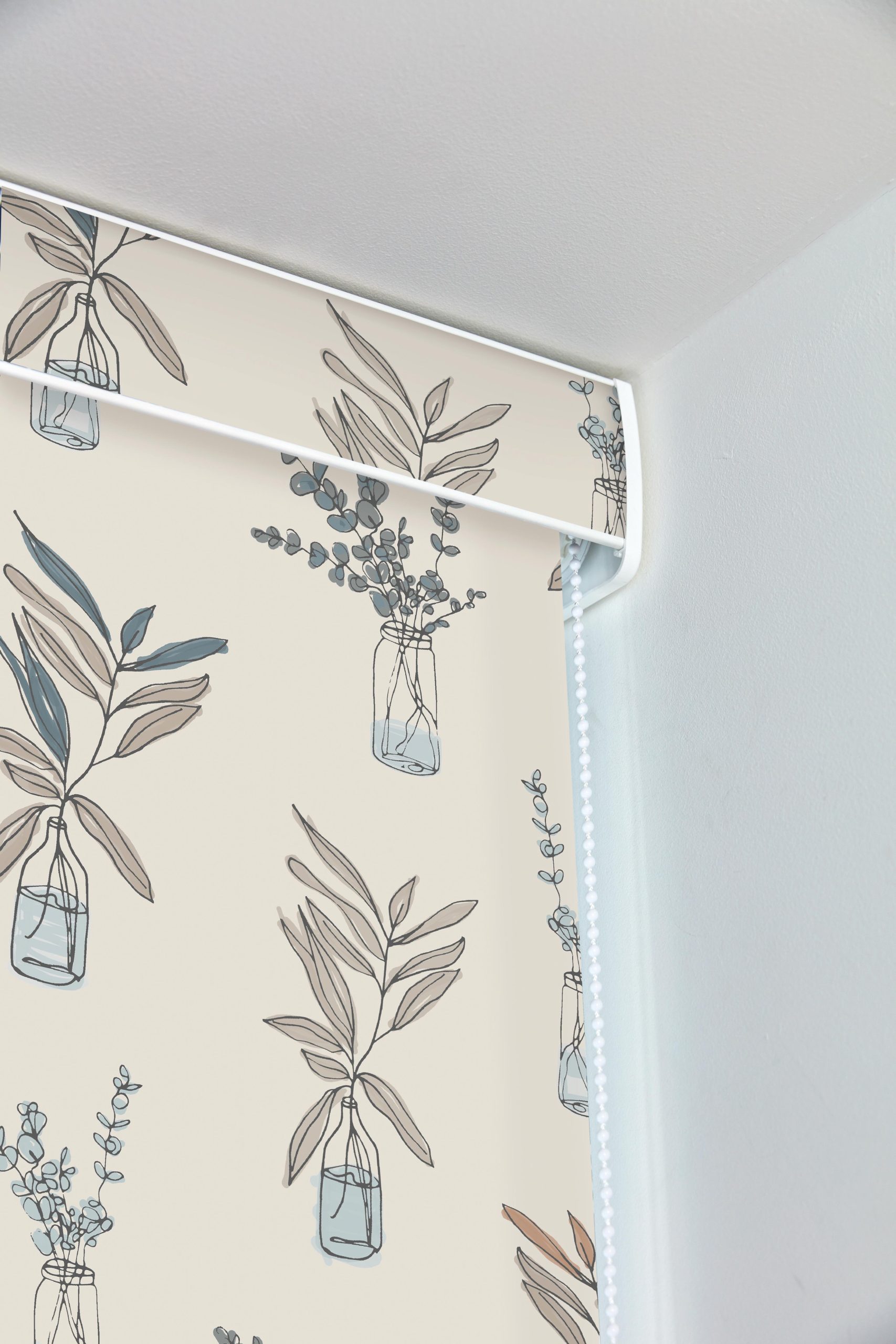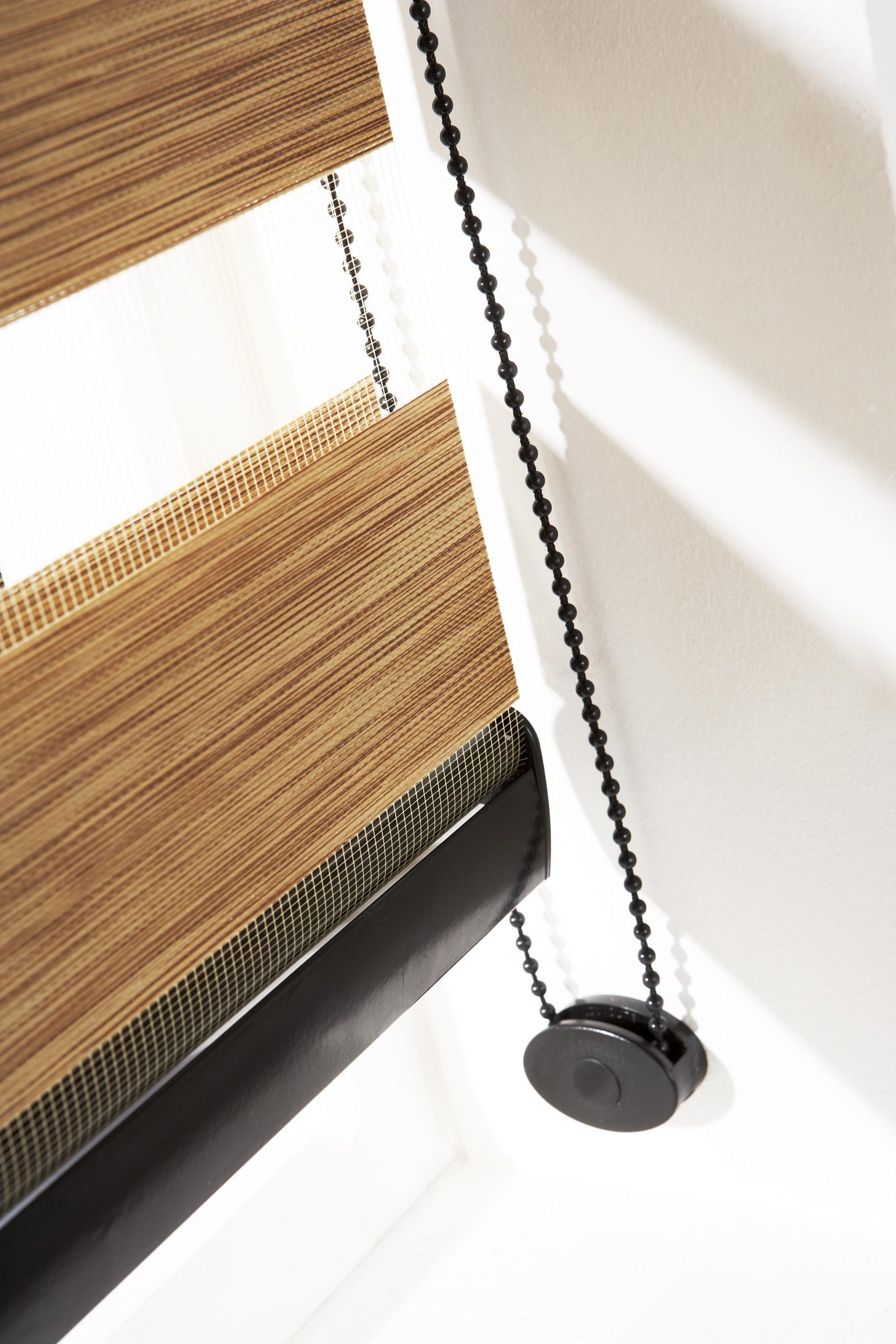 Controls
There are several ways to operate your roller blind, and we can help you find the best suited option for your needs – this can influenced by the environment the blind is in and when/how often it is to be operated. See below a list of the options available:
Sidewinder Control – This is the most common option for roller blinds which is a looped or continuous chain to wind the blind up and down. Due to Child Safety Regulations all blinds are required by law to be fitted with a child safety device if there are loose cords, this can either be a breaker in the chain or a wall cleat as pictured.  
Sprung Control – There is no looping chain at the side of the blind, instead it has a spring mechanism built in the barrel of the blind which means when you pull the bottom of the blind down slightly it will then raise up by itself. You will either have a single small cord at the bottom to pull it by, or you just pull it directly from the bottom bar. 
Crank Control – This is a pole which you rotate to control the blind. This is a popular option where child safety is of key paramount as there are no chains to get tangled up in. Depending on the size of the blind, you can have the pole permanently fixed at the side or it can be detachable (Ideal for classroom settings).
Motorised (battery or hardwired) – This is a great option for windows that are out of reach or quite frankly if you don't want to get out of bed immediately! Again this is automatically child safe due to no loose cord controls.